How can I transfer my Android app to a different Google Play Account?
1. Login to the Google Play Account where the app currently is.
You'll need to be logged in as the Account Owner so access via an invitation won't be sufficient.
2. Go to the App Transfer page. It's under Setup on the left-menu.
Here's a direct link to this page:
https://play.google.com/console/u/0/developers/app-transfer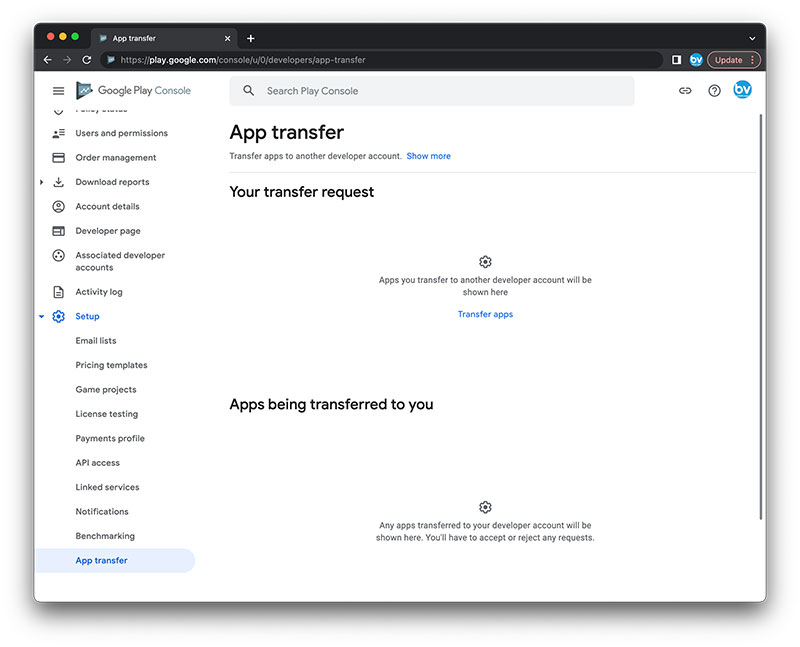 3. Click Transfer apps
You'll need the Developer ID and Transaction ID for the new account.
You can find the Developer ID in your Google Developer Account here (bottom of the page):
https://play.google.com/console/u/0/developers/contact-details
You can find the Transaction ID in your Google Payments Center here:
https://pay.google.com/payments/u/0/home
Here are instructions from Google to help you fill out the form:
https://support.google.com/googleplay/android-developer/answer/6230247?hl=en
Related Questions
Have more questions?
We can help you by phone or email.
Contact Us